디럭스 더블 (DELUXE DOUBLE)
DELUXE DOUBLE
효율적인 타입의 에버8 디럭스 더블 객실
디럭스 더블 객실은 커플이 사용하기 충분한 사이즈의 객실 공간으로 구현되었습니다.
붙박이장을 활용하여 자연스럽게 수납하여, 공간이 보다 넓게 느껴지고 편안한 인상을 줍니다.
퀸 사이즈의 침대와 에버8전용 고급 침구가 마련되어 있으며, 전객실 바닥난방으로 최상의 잠자리를 경험할 수 있습니다.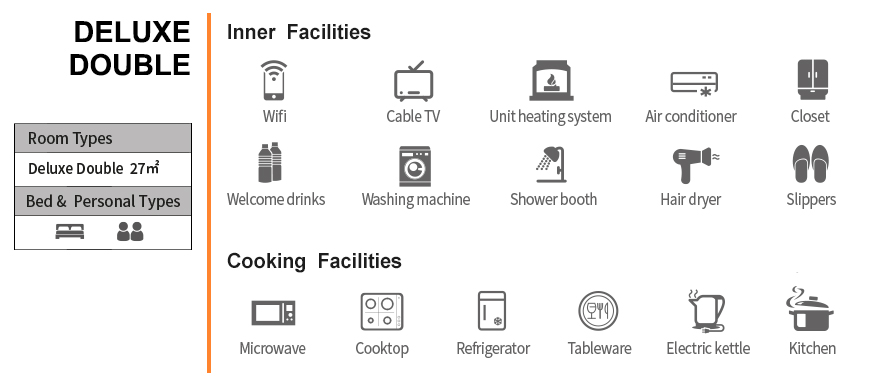 ​객실 서비스
- 객실 내 초고속 유, 무선 인터넷 무료 제공
- 최신형 32,42인치 LED TV 설치
- Tea bag으로 제공되는 커피와 티 무료제공
- 인덕션, 전자렌지로 취사가능
주의사항
- 정원을 초과하여 입실할 수 없습니다.
- 모든 요금에는 부가세 10%가 별도 부과됩니다.
예약하기
Ever 8 Deluxe Double room in efficient Type
The deluxe double rooms are large enough for couples to use.
It uses a built-in cabinet to naturally store it, making the space feel more spacious and comfortable.
Queen bed and high-end Eb-8 bedding, all with underfloor heating in all rooms.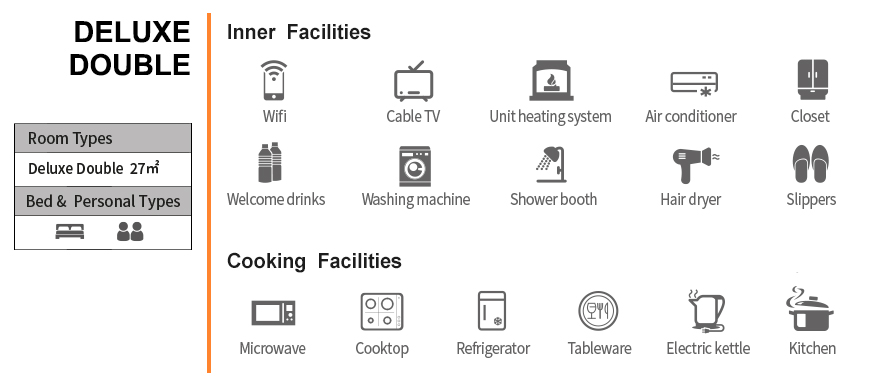 ​◈ Check in from 15:00pm, Check out by noon.
◈ Free parking 1 car per a room.
◈ An excessive number of guests can not be allowed to stay.
◈ An extra bed is not available in all rooms.
◈ All rooms are non-smoking area, and a penalty is imposed if you smoke.
◈ Cancellation must be made at 48hours prior to the arrival date. For any no-show or late cancellation.
- 24 hours before : 50% of 1 nights charge
- Same day : 100% of 1 nights charge
◈ The penalty will be charged from the guaranteed credit card.
◈ If you would like to change or cancel your reservation, please call or e-mail. (No change or cancellation possible on the website.)
Reservation : 02-6946-0887,0888 rsvn@ever8.co.kr
RESERVATION