패밀리 트윈 (FAMILY TWIN)
FAMILY TWIN
가족단위 타입의 에버8 패밀리 트윈 객실
패밀리 트윈 객실은 3-4인 가족이 사용하기 적합한 사이즈의 객실 공간으로 구현되었습니다.
2개의 싱글,퀸 침대가 놓여진 타입으로 가족단위로 방문하신 분들께 추천해드립니다.
붙박이장을 활용하여 자연스럽게 수납하여, 공간이 보다 넓게 느껴지고 편안한 인상을 줍니다.
싱글, 퀸 사이즈의 침대와 에버8전용 고급 침구가 마련되어 있으며, 전객실 바닥난방으로 최상의 잠자리를 경험할 수 있습니다.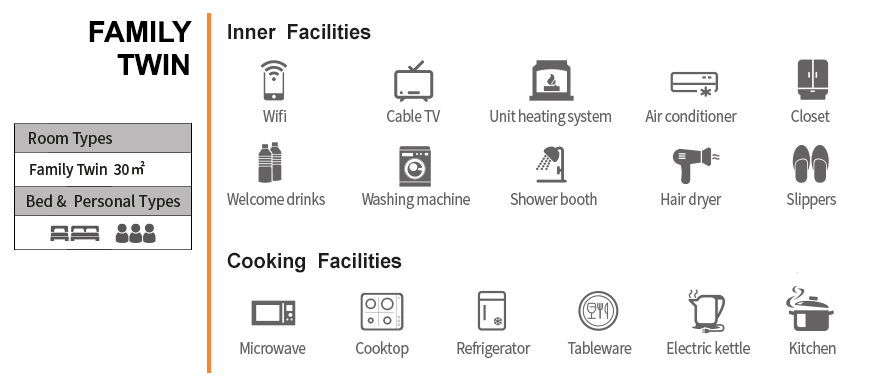 ​객실 서비스
- 객실 내 초고속 유, 무선 인터넷 무료 제공
- 최신형 32,42인치 LED TV 설치
- Tea bag으로 제공되는 커피와 티 무료제공
- 인덕션, 전자렌지로 취사가능
주의사항
- 정원을 초과하여 입실할 수 없습니다.
- 모든 요금에는 부가세 10%가 별도 부과됩니다.
예약하기
Ever 8 Family Twin room with family unit type
The Family Twin rooms are available in a size suitable for families of 3-4 people.
We have two single and queen beds. We recommend this for families.
It uses a built-in cabinet to naturally store it, making the space feel more spacious and comfortable.
Single, queen-size beds and exclusive Ever-8 exclusive bedding, all with underfloor heating for the ultimate sleeping experience.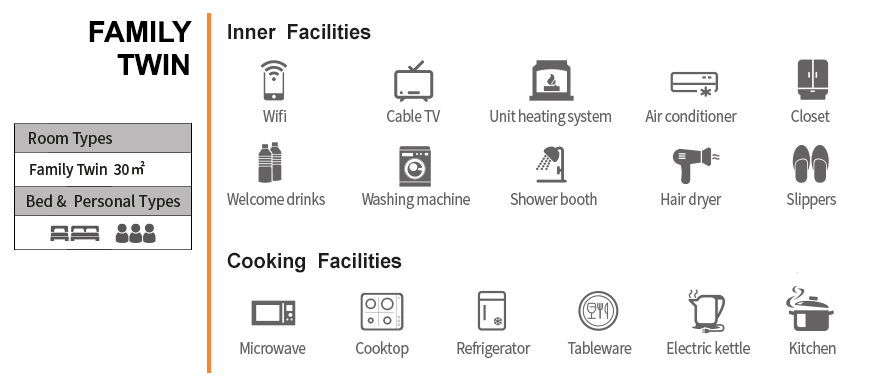 ◈ Check in from 15:00pm, Check out by noon.
◈ Free parking 1 car per a room.
◈ An excessive number of guests can not be allowed to stay.
◈ An extra bed is not available in all rooms.
◈ All rooms are non-smoking area, and a penalty is imposed if you smoke.
◈ Cancellation must be made at 48hours prior to the arrival date. For any no-show or late cancellation.
- 24 hours before : 50% of 1 nights charge
- Same day : 100% of 1 nights charge
◈ The penalty will be charged from the guaranteed credit card.
◈ If you would like to change or cancel your reservation, please call or e-mail. (No change or cancellation possible on the website.)
Reservation : 02-6946-0887,0888 rsvn@ever8.co.kr
RESERVATION